M13Productions: The music OF Mark Mahoney
Mark Mah
oney:
Drummer/Bassist CT-USA

Mark's extensive experience as a drummer has included a wide variety of groups such as: Caribbean Steel bands, Big Bands, Jazz trios/Quartets, Funk Bands, Rock Bands and musicals.
NEW GIG!
I'm thrilled to have been selected to drum for The Vita Rose Band. Vita's music is a blend of rock, pop, RnB and more. Musicianship of the band is top notch and is sure to provide exciting listening and entertainment. Check out a sample of Vita's originals:
In addition to drumming for Vita, Mark can currently be heard around CT playing with the exciting Latin/Funk band "Ice-Fire" Keep up the band on Facebook at: The Ice Fire Band USA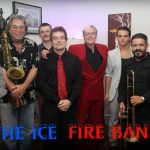 Check out the "Performances" link at the top of the page to catch either of these bands or the "Ralph Judson Quartet with Mark on bass.
Recording drums: During the last ten plus years Mark has been recording drums remotely for various artists. He's always been intrigued by the drum tracking process and has spent hundreds of hours refining it. All drum tracks found in the discography section have been recorded and mixed by Mark. The final mixes were that of the artist or engineer.
If your next gig or recording requires a live drummer with extensive recording and performance experience, contact Mark via the link at the top of this page. Or better yet, introduce yourself at a gig. Catch him performing throughout CT and NY with:
Mark's back ground includes degrees from both University Of Miami (BME) and the University of Tennessee (MM in Jazz Studies).
Bass: Out of misfortune arrises opportunity…
March 2015: a serious car accident and subsequent surgery on Mark's leg kept him off the drum kit for a while. He had always wanted to play bass as the drummer/bassist connection is so important. With the forced hiatus from drums the time was right to act on his long time desire. He bought an instrument, dove into bass forums and on line lessons. Nine months later, in January of 2016 he played his first gig with "Rounding Third" a local classic rock band. The band gigged most weekends and was a great way to learn fundamentals.
Ruby & The Wolves" came next. Their set list included the likes of: Peter Gabriel, Steely Dan, Kansas etc. How I got that gig still baffles me but, if forced me to digest a lot of music and focus on technique; a very good thing.
Part II: Present
"Studies With Todd Johnson"
A few years back I was trying to tackle walking bass lines. I found some transcriptions of Todd's at TalkBass. Some things were not making sense to me so I emailed. 2.5 years later I'm still his student. If you're a bassist, serious about improving, I can't recommend Todd enough. He's one of the rare guys that can really play, teach, inspire and motivate.
My studies with him have lead to my current gig with the "Ralph Judson Quartet".
I guess my tag line at TalkBass.com sums it all up: "… a friend I share drumming gigs with would often joke that we should take up bass since real bassists are so hard to find; I got tired of joking."
MIDI Mallet UNO:
Archived…for now 😉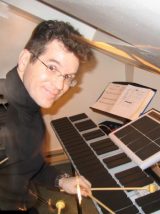 MIDI Mallet Uno is Mark's solo mallet percussion project. This exciting project features Mark on a mallet controller accessing a large array of acoustic and synth sounds. While Mark's controller looks like an electric xylophone, it rarely sounds as such. It functions as a bass, piano, horn or synthesizer. Playing style from Jazz/Fusion to Latin to Rock. These sounds and textures are accompanied by triggered loops and backing tracks. The end result is a solo musician that sounds like a multitude of bands all sharing the same stage.
"I don't get it, what instrument is he playing" (overheard at a gig).
Answer: Hundreds of different instruments. See below for a tour of Mark's MIDI mallet rig
Mark Mahoney
Live Video
Musicians and non musicians alike may look at the picture to the left and think, "Ummm…what"?
Check out the video and it all makes sense.